The Queen's Necklace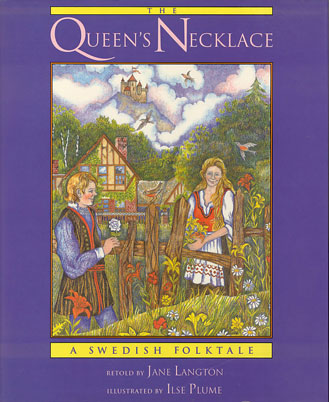 Hyperion, 1994
Written by Jane Langton
King Hendrik is cruel and greedy, taxing his people to the point of starvation. His prized possession is a string of 100 pearls, 99 of them flawless and 1 small and imperfect. He is lacking only a queen and orders his nephew, Prince Nils, to find him a perfect bride. Nils returns with Blanzeflor, a lovely and kind young woman willing to marry King Hendrik so that her father won't starve.
The king gives her the pearls, warning that the day they are not around her neck will be her last. She finds that she cannot bear to see her people suffer, and one by one the pearls are sent to help them. When they are all gone, Blanzeflor is sentenced to death, but the birds she has cared for and who witnessed her kindness rescue her and destroy the king. Langton's narrative is powerful and precise, with a stately cadence. There is nothing extraneous in the tale, as each detail is set carefully into place. Blanzeflor is strong and independent as well as good. The strength and earthiness of Plume's illustrations are balanced by the ethereal quality of the colors and finely sketched details. The artist has also worked traditional Swedish motifs into decorations at the top of each verso. An appended source note discusses the original author and Langton's modifications. A handsome and appealing book.
Donna L. Scanlon, Lancaster County Library, PA
Copyright 1994 Reed Business Information, Inc.