The Farmer in the Dell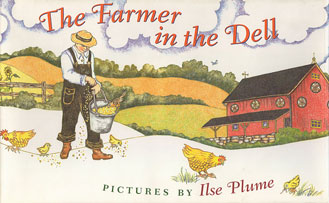 David R. Godine Publisher, 2004
The timeless circle-game "The Farmer in the Dell" is one of the first that American children learn to play, and its happy, lilting song is among the first they learn to sing.
Here the celebrated picture-book artist Ilse Plume has imagined a fresh and very American setting for the lyrics – a farmstead in the Pennsylvania Dutch country. A young Amish farmer takes a wife, the beautiful wife takes a child, the child takes a nurse, the nurse takes a dog, and with each successive verse the seasons turn, the farmer grows older, and his farm grows more prosperous, more lively, more richly populated. Ms. Plume's colored-pencil drawings are inspired by the folk art and decorative motifs of the Pennsylvania Dutch.
–Kirkus Reviews 
[Plume] puts an Amish spin on the oft-sung favorite with lovely, old-fashioned, colored-pencil scenes and border designs inspired by Pennsylvania Dutch motifs and folk art….An elegant tribute to an American classic.