The Year Comes Round: Haiku through the Seasons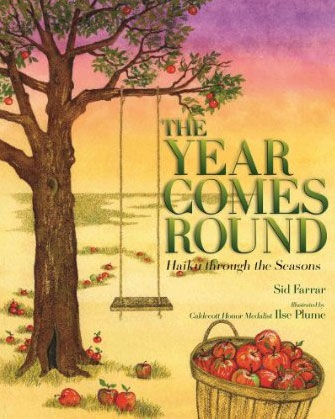 Albert Whitman & Company, 2012
Written by Sid Farrar
Buy it on Amazon
First-time author Farrar here teams up with the Caldecott Honor–winning Plume (The Bremen Town Musicians, 1980, etc.) to capture signature poetic snapshots of the four seasons.
While global warming may make these 12 haiku noting distinctions among the seasons ever more historical as the years continue to come round, the evocative scenes Farrar paints are sure to inspire young readers to note cyclical changes in the natural world. And just in case these wonderfully imagistic poetic kernels or Plume's warm, lushly hued watercolors miss their mark, readers can always turn to Farrar's prose expositions on time and the seasons at the volume's end. But the tight marriage of word and image present in the majority of these double-page spreads should render that explanatory annex unnecessary.
Farrar excels in choosing natural elements and events that prove quintessentially seasonal. "Like tiny fallen / stars, fireflies quietly blink / their secrets at dusk" suggests the magical depth of a summer's twilight without needing a syllable more. Similarly, Plume's exquisite artistry renders a slightly more complex winter poem—"Each windowpane's a / masterpiece, personally / signed: Your Friend, Jack Frost"—accessible through its abstract amalgam of blue, gray and white icy designs. Plume smartly avoids the temptation to overcompensate for the spareness of these 17-syllable works, lending to Farrar's year outdoors graphic dimensions as vibrant as nature itself.
A richly illustrated view of the seasons through haiku. (Picture book/poetry. 4-8)
From Kirkus Review